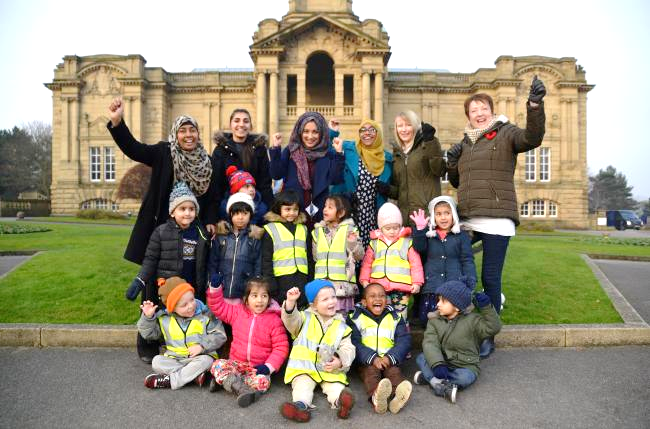 7 December 2016
Lilycroft and Midland Road nursery schools celebrate 10 years of outstanding Ofsted reports
Staff and Pupils from Lilycroft Nursery School and Midland Road Nursery celebrate outstanding Ofsted ratings for past 10 years
TWO nursery schools in Bradford are celebrating 10 years at the top after a recent visit by Ofsted inspectors.
Both Lilycroft Nursery School and Midland Road Nursery School have been judged as "outstanding" for the fourth inspection in a row Bradford and reports have praised them for the quality of the early years education they provide.
The schools have been leading the field since their first outstanding ratings back in 2007 after the top grade was created by Ofsted.
It means more than half of the nursery schools in the Bradford district are judged to be outstanding with the others all judged to be good.
At a recent inspection, inspectors praised Midland Road for using its funding innovatively through dance and outdoor play.
Headteacher Sharon Hogan said: "I was delighted that the inspector recognised that the staff team is a strength of the school. We have a great mixture of experienced and younger colleagues who together ensure that Midland Road not only continues to be outstanding after so many years but has also been able to grow and expand the work that it does.
Lilycroft Nursery School is also given glowing praise in its new report. Inspectors say the school provides high quality teaching and provision for three and four-year-olds.
The report says Lilycroft staff have created "a safe, warm and exciting place for children to be while parents say how excited their children are about coming to school.
ADVERTISING
invented by Teads
Two other Bradford nursery schools have been rated as outstanding by Ofsted. Canterbury Nursery and Centre for Children and Families, was given this rating earlier this year and St Edmunds's Nursery School and Children's Centre was rated as outstanding at its inspection last year - for the third time in a row.
Anne-Marie Merifield, executive head at both Lilycroft and St Edmund's said: "Our successful Ofsted reports show the impact nursery schools can have. For us it shows the importance of having qualified teachers working with children to give them a good grounding."
Coun Imran Khan, Bradford Council's Executive Member for Education, Employment and Skills said: "These reports are a credit to everyone involved. It is great to see that all of the nursery schools in the Bradford district are rated as good or outstanding."