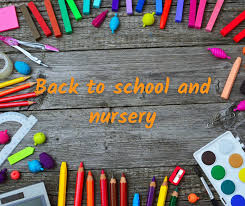 26 February 2021
Friday 26th February 2021
Dear Parent/Carer,
As I am sure you are all aware, the Government have announced that schools will be reopening to all children from Monday 8th March. I am writing to you to confirm that we are very happy to welcome ALL children back to Nursery on this date - Monday 8th March.
For those of you who have chosen to keep your children at home, we hope that you will feel that the time is right for them to return to Nursery. Getting back into routine and enjoying spending time playing and learning with their friends and teachers will be really beneficial and we are very much looking forward to seeing you all back!
We will of course continue to have all the necessary measures in place to ensure that Lilycroft Nursery School is as safe as possible for your children. Class bubbles will be kept separate at all times, our enhanced cleaning schedule will remain in place and children will be supported to wash their hands regularly. Our staff continue to use lateral flow devices twice a week to test at home for Covid-19.
Please support us to keep everyone safe by:
Maintaining a 2M distance from others.
Not gathering inside school grounds or by the gates.
Keeping your child at home if they or anyone in your household has Covid-19 symptoms and/or have booked a Covid test.
If your child will need to settle in again as they have not attended many sessions, your key person will be in touch to arrange this with you.
If you have any questions or concerns please contact us on 01274 545647 and we will be very happy to help in any way that we can.
Can't wait to see everyone really soon!
Sian and the Nursery Team